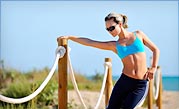 Natural medicine has focused on women's health for thousands of years. Many of the gynecological conditions that affect women today were discussed in early Chinese medical texts. Women of all ages can benefit from Traditional Chinese Medical (TCM) care.
We may do a variety of testing procedures to identify the nature of the problems.
For young women just beginning menstruating, acupuncture can help relieve menstrual cramps and the many symptoms associated with PMS. Many times women are told that cramps and symptoms of PMS are a normal part of being a woman. With natural medicine treatments many of the symptoms usually begin to quickly disappear.
Chronic menstrual problems like fibroids and endometriosis respond well to more long term care of acupuncture and herbal medicine. For women in menopause, treatments can greatly reduce hot flashes and night sweats to make this time of transition more comfortable. Treatments focus on stopping excessive sweating and restoring restfulness.